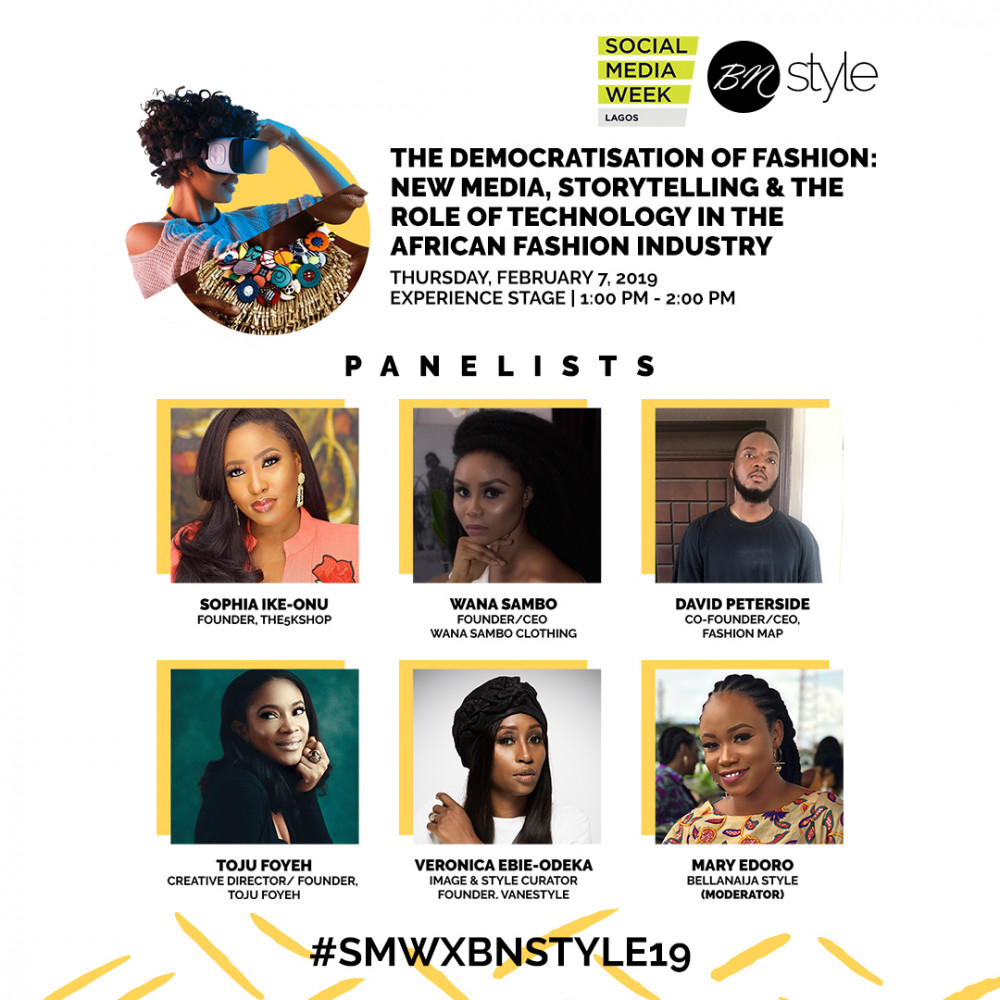 Africa's largest tech and digital media event Social Media Week begins on the 4th of February 2018 and BellaNaija Style will be hosting a panel on the 7th of February titled "The Democratisation of Fashion: New Media, Storytelling & The Role of Technology in the African Fashion Industry" – a panel discussion with 3 industry leaders in the country at #SMWxBNSTYLE19.
Date: Thursday February 7, 2019 
Time: 1:00pm – 2:00pm 
Venue: Experience Stage
MEET THE PANELLISTS
Sophia is an Architect who has turned her affinity for creativity into building exciting businesses. She studied to be an Architect in Nigeria, practiced in Lagos and Abuja before heading to the UK for her Masters in International Architectural Regeneration and Development.
Prior to moving back, Sophia had garnered – based on personal experience and interaction with other avid Nigerian shoppers and from personal experience – the need to create a great and more affordable shopping experience for African women.
The5kshop.com is the primary shopping destination for quality affordable fashion pieces as her pieces are priced under N5000. With over 10,000 orders shipped around the world and a huge social media following, The5kShop has received both local international awards and has grown exponentially each year since inception.
Sophia has also been featured on notable platforms including CNN for her strides in promoting the made in Nigeria narrative.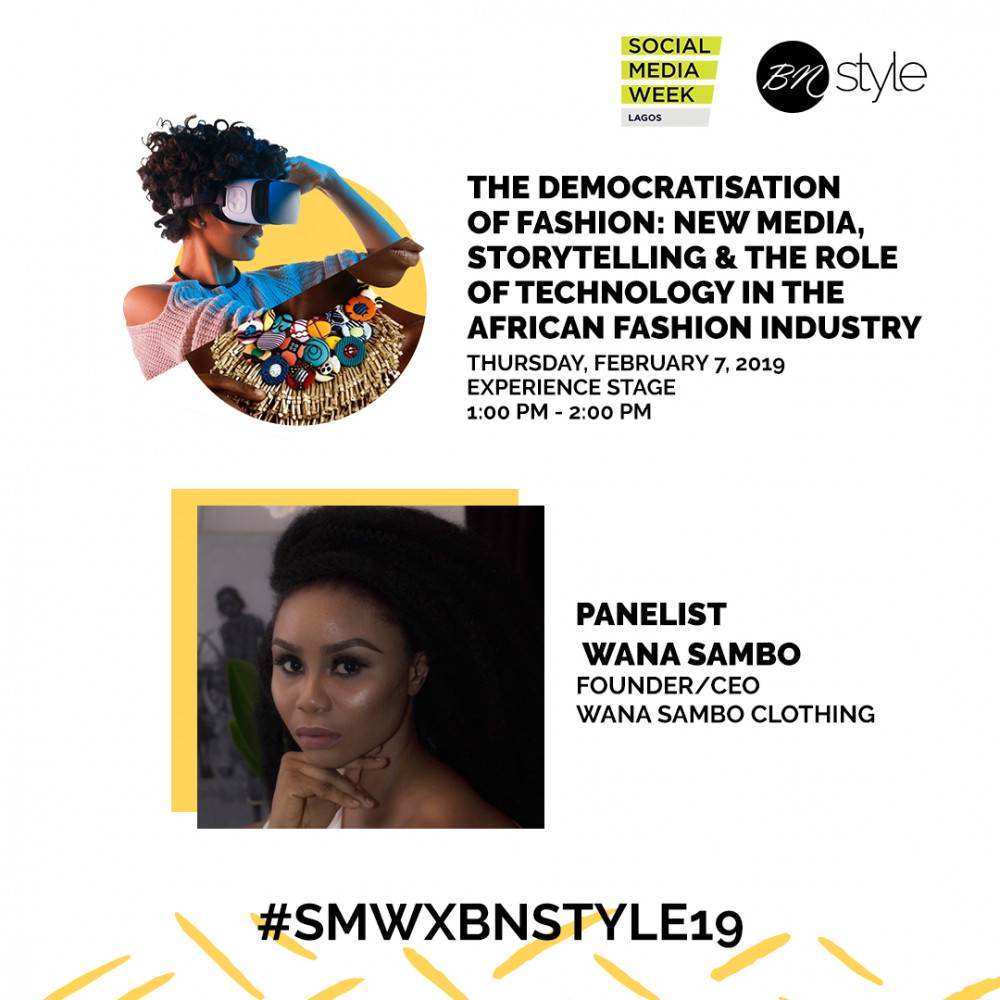 Wana Sambo is the Founder and CEO of the award-winning womenswear brand, Wana Sambo Clothing. She has a certificate in Fashion Marketing from the London College of Fashion and is a graduate (magna cum laude) of International Relations and Diplomacy of Igbinedion University, Edo state.
With a British Vogue feature and having been declared by Okay Africa as a "Fashion Game changer", listing the Wana Sambo brand as "one of the top 11 fashion brands you need to know", being a panelist on several fashion panels, and having a handmade, ready-to-wear brand that is currently thriving in the Nigerian economy, we can successfully call her a fashion business/marketing guru.
The Wana Sambo brand's first collection was launched in December 2010 and has since then become a household name in Nigeria with its flagship store in Lagos Nigeria and an Online store which ships globally. The brand's first runway event for the Wana Sambo brand was a charity event/auction for an orphanage called "Haven for the Nigerian child" and the brand has since then graced several runway shows the world over and has been seen on various notable celebrities who star in its campaigns and lookbooks.
David Peterside is the Co-Founder/CEO of Fashion Map App. Fashion Map allows you to find Tailors, Brands & Fashion designers at the click of a button. It seeks to bring visibility to African Fashion creatives and enable local fashion businesses no matter the size.
This innovative platform will not just help people find great designers for their occasions, it will also help designers increase their client base which will eventually increase their income and help them be more focused on their creativity to satisfy customers rather than using their "thinking time" to increase their clientele base.
David comes from a technology & business background.
Toluwaloju Olowofoyeku (Toju Foyeh) developed a keen interest in fashion from a young age. Growing up, she was surrounded by several family members who were involved somehow in the fashion/dressmaking industry including her parents who started a clothing line as a young couple.  Toju obtained an LLB (Bachelors of Law) from the University Of Reading, the United Kingdom 2008, and an LLM (Masters of Law) from the University of Manchester, United Kingdom 2009. She then decided that the time was right to follow her passion by enrolling for the Fashion Design degree program at the world famous Instituto Marangoni in Milan before finally launching her clothing line after graduating in 2012.
As her brand grew, she was invited to participate in the Arise Magazine Fashion Week Lagos 2011 and 2012, New York Fashion Week 2012 and was subsequently noticed as a designer to watch after being awarded the 'Future Awards Africa Fashion Designer of the Year' in 2012. With hard work and perseverance, the Toju Foyeh brand became a favourite amongst celebrities in Nigeria (Tiwa Savage, Agbani Darego, Betty Irabor, Osas Ajibade to name a few). The brand has also partnered with South African style icon Bonang Matheba and other public figures from SA; Nomzamo Mbatha, the First Lady of South Africa Her Excellency Bongi Ngema-Zuma among others.
The name Veronica Ebie-Odeka is one easily recognized by all in the fashion, entertainment and lifestyle industry. She is an international stylist born and raised in Houston Texas, USA with a ten-year background in high fashion runway modeling, print, commercial and Spokes Modeling.
In 2010 upon relocating to Nigeria, she worked as a style correspondent and cover stylist for This day style and established the brand Vanestyle– A fashion and style agency that offers commercial as well as personal styling and shopping services.
From red carpets to music videos and more Veronica boasts of a strong client list of celebrities and fashion brands past and currently styling such as Genevive Nnaji, Mo Abudu, Omotola Stephanie Coker, Funke Adepoju, Fashpa Odion Mimonet, Elite Model Look Nigeria, GTBank NdaniTV, MTN Lagos Fashion and Design Week, Ebonylife TV's Moments with Mo, Jara, Studio 53 Extra, Vanity Fair Italia, Mania Magazine, Thisday Style among others.
The #SMWxBNSTYLE19 will be moderated by BellaNaija Style's Mary Edoro.
—
In this hyper-connected digital age, it can be a challenge for brands to tell their stories and cut through the noise with clarity and credibility. Add in a broken distribution system, a news cycle that moves at warp speed and heated political and social climate – social media can feel fraught with peril for both established and emerging brands.
We intend to discuss with these creative fashion leaders who have mastered the elusive balance between technology and fashion and are at the forefront of shaping the industry's future.
Date: Thursday, February 7, 2019 
Time: 1:00pm – 2:00pm 
Venue: Experience Stage