The second edition of the Lagos Leather Fair set to hold on the 4th-6th of May is introducing the emerging designers' competition this year to give up-and-coming leather designers an opportunity to showcase their talent and assist them in launching their brands.
The competition was open to all Nigerians who have been in operation within the leather space for no more than 18 months. There were 37 applicants from all over the country and 15 semi-finalists were selected via a virtual team of industry experts. Once this was completed, the final six with the top rankings were selected by another team of judges.
Date: Friday, May 4th – Sunday, May 6th, 2018
Venue: Harbour Point, Victoria Island, Lagos.
The finalists are:
Lamide Onyenobia of  LÁMÍDÉ SAMUEL, a leather bag designer that incorporates traditional artistic inspiration with urban interest
Daniel Momoh of Oyani Signature, an innovative fashion accessory brand that integrates the concepts of multi-functionality and technology to produce everyday accessories
Titilola Bello of Dlgent Handmade, a start-up fashion accessories brand that is focused on the production of handmade leather bags and goods for men and women
Barakat Alabi of Ara's Handmade Designs, a jewellery brand that creatively infuses leather into their productions.
Tamara Claudius of  Hue by Tamara, a passion-driven hand-made leather goods brand
Oge Onuoha of Oof!, a footwear design brand.
Each of these six emerging designers will be given a complimentary booth at the Fair and will also receive a cash gift as well as an opportunity to be mentored by an experienced leather designer in their chosen field. They will also be formally presented at the opening event of the fair on Friday 4th of May.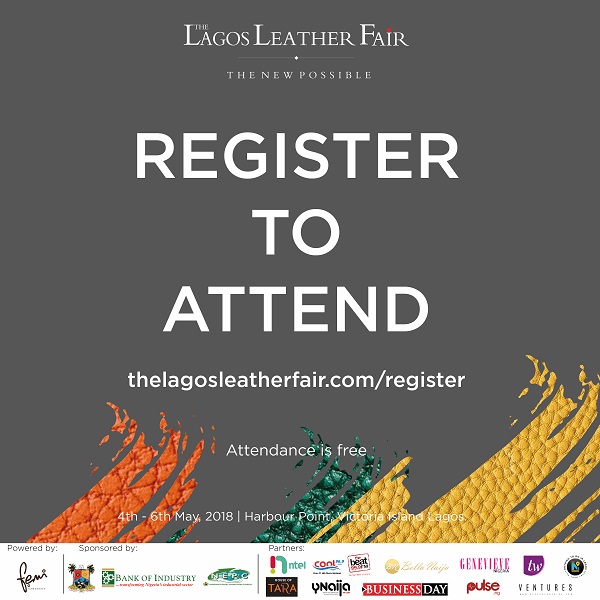 Register to see the emerging designers, shop from over 50 leather and leather goods exhibitors and learn from masterclasses, panel discussions and workshops hosted by seasoned speakers.
Attendance is free!  To register, click here. For more information about the fair, visit www.thelagosleatherfair.com
Follow @lagosleatherfair for updates.
Lead photo credit: @mujilagos