Lupita Nyong'o In Balmain at the 'Us' New York Premiere
Lupita Nyong'o is no slouch in the beauty department and she's definitely a style star we look forward to seeing on the red carpet. Known to experiment boldly with daring fashion and beauty statements on and off the red carpet – we were definitely excited and curious as to what form her promo tour looks would take for her new starring role in Jordan Peele's latest movie – the horror themed 'Us'.
Another thing we love about the Kenyan Oscar winner and Yale graduate? She knows how to really commit to a theme. Her Queen of Katwe and Black Panther red carpet promo tours are a great example of this. Her glam squad tells a story from start to finish and really brings this theme to life. For the 'Us' promotional tour, Lupita Nyong'o and her long time team of stylist Micaela Erlanger, makeup artist Nick Barose and hairstylist Vernon François executed a subtle yet riveting and simple theme.
In the film-  she plays two parts – the bright and beautiful Adelaide, matriarch of the Wilson family, and Red, her scary, bloodthirsty doppelgänger and this duality was reflected in Lupita's fashion and beauty choices for the tour. Bold, bright and Stepford-esque for daytime, dark, scary and more than a little threatening for nighttime. This subtle but effective messaging is so brilliant it leaves an indelible mark in our minds. Switching things up really shows off the two different characters she portrays in the movie. Lupita and her team's ability to distil and interpret this message is as impressive as ever.
Check out some of the unbelievably innovative and truly badass beauty looks we've ever seen on her (or anyone to be fair) to date.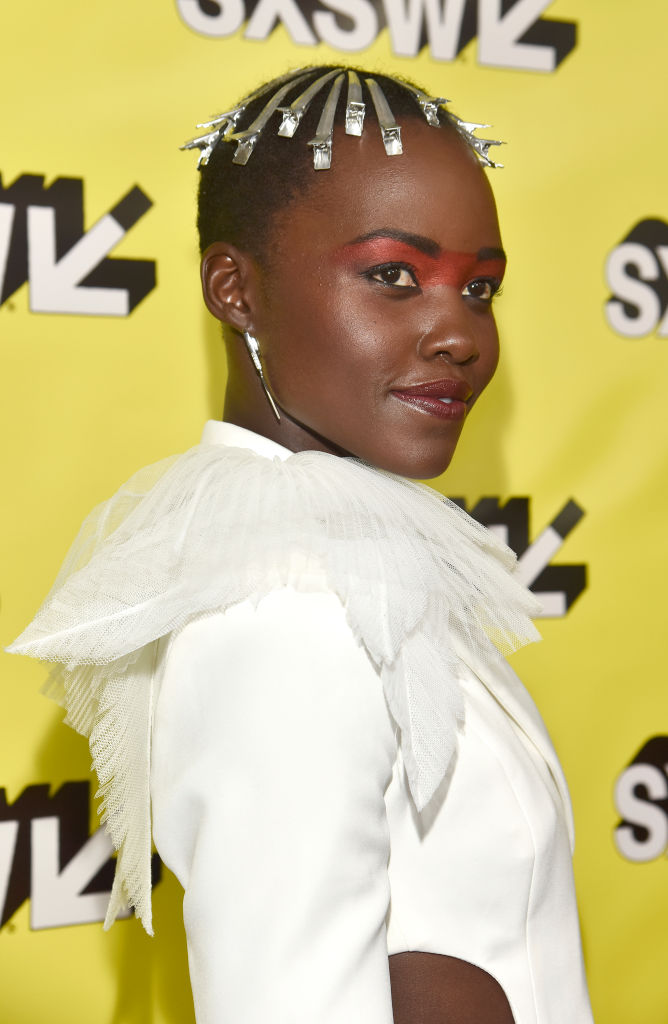 Lupita Nyong'o In Honayda at the 'Us' SXSW Premiere
For this look Lupita Nyong'o wore silver hair clips throughout her hair. According to Variety, there was a very specific message behind this choice.
"This film is about bringing the darkness to the fore, the things that are hidden out," Nyong'o told Variety. "My hair is inspired by that: the processes that we often hide, making it part of the outside vision."
In addition to the inspiration from the movie, Nyong'o was also inspired by none other than the OG himself , Snoop Dogg. She also cited '80s disco as an influence for her statement eye shadow (the decade played an important part in Us). For the creative red-carpet beauty look Nyong'o's makeup artist, Nick Barose opted for a gorgeous eye makeup look  (using all Lancôme's products naturally)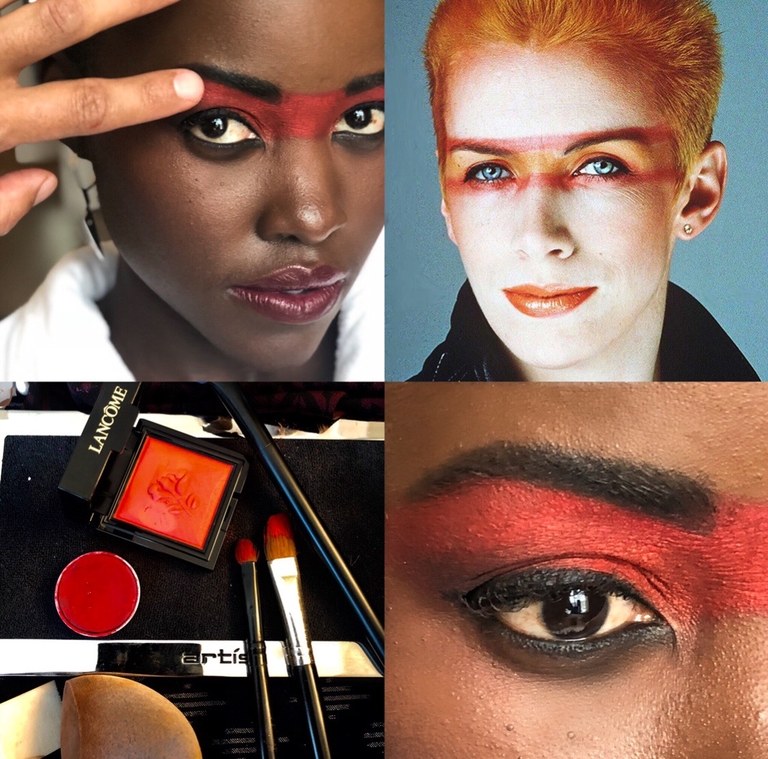 In a discussion with Allure, he said
"The look is inspired by the fierce '80s music videos from artists like Annie Lennox, Grace Jones, and Daryl Hannah when she was total badass and wore a similar look for her character, Pris, in the original Blade Runner" It's a fun, powerful makeup look that's perfect for the '80s-attitude revival we are seeing in fashion. And when you're running strokes of bold colors across the eyes like that, it evokes that fierce warrior attitude as well."
For her standout eye makeup, Barose blended various shades of red, orange, and copper on top of each other. "Red with a bit of gold complements Lupita's dark skin, which already has red in it, but you can also do this in any bold colors," noting that it could also look amazing in metallic navy, forest green, fuchsia, and more.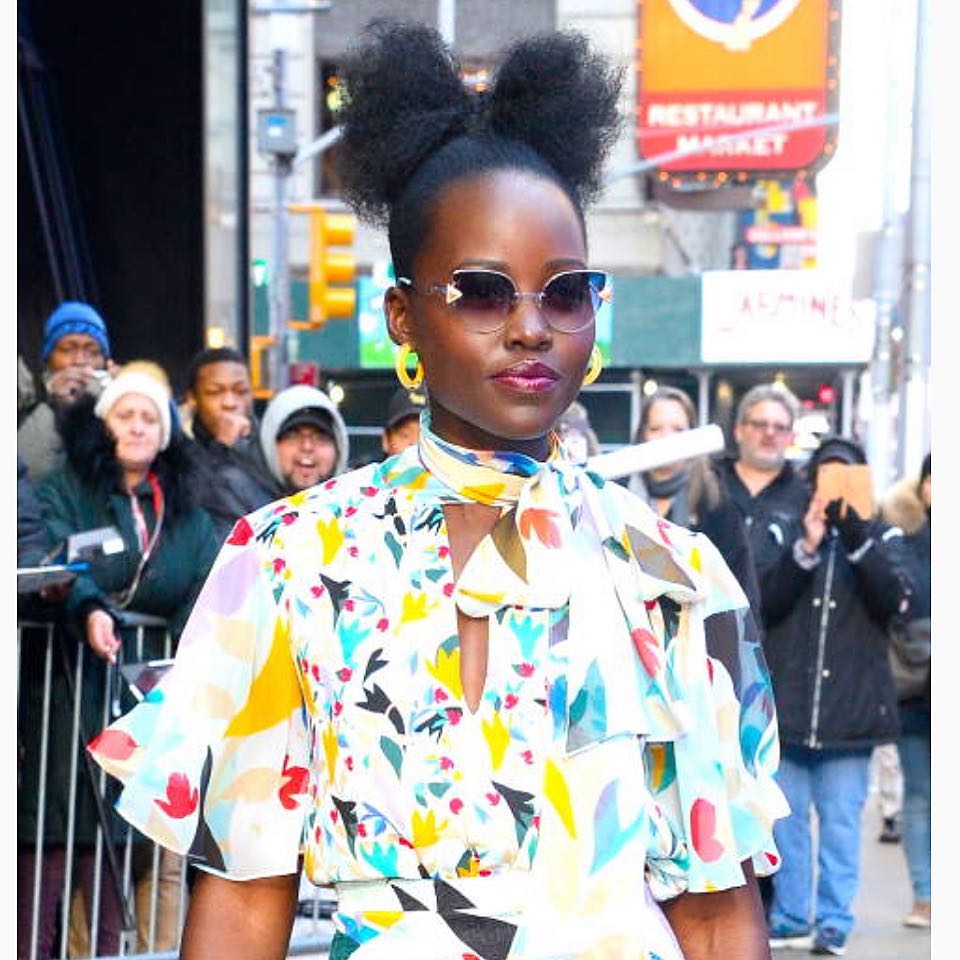 Lupita Nyong'o In Prabal Gurung & Mansur Gavriel – Good Morning America
Get your next dose of spring beauty inspiration from this Lupita Nyong'o look. In full-on 'Adelaide' mode, the star opted for a whimsical head-turning 'fro bow, finessed into this Barbie-worthy bow!
"I wanted to create something fun and chic," Vernon told Allure. "The main thing to be mindful of when creating a 'fro bow is that balance is key. It doesn't have to be neat, but the volumes need to complement each other on both sides. Once the hair is in a ponytail, I used a small braid in the middle to separate the two sections. [To style], tease the hair with fingers for your desired finished look and pin where necessary."
Lupita Nyong'o In Bande Noir at The Late Show with Stephen Colbert
For yet another creepy glam take on her character Red, Nyong'o opted for bright-yellow, snake-like eyes paired it with simple, matching hot-pink lip . Vernon François simply straightened her hair and slicked it to one side, to let the creepy eyes really take center stage.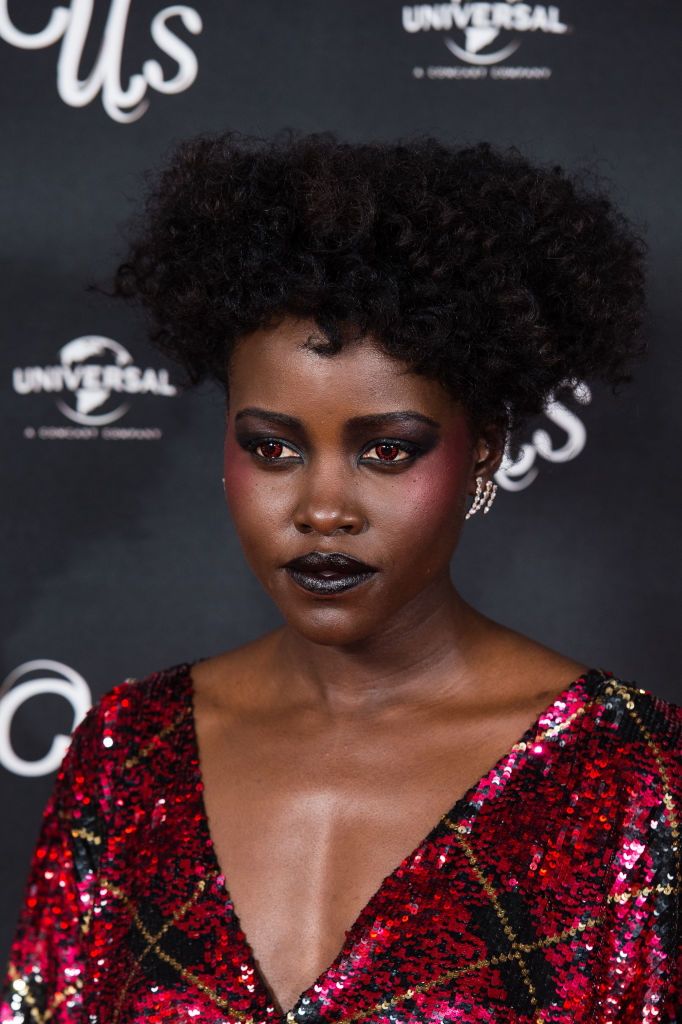 Lupita Nyong'o In Attico – 'Us' London Screening
Here Nick opted for otherworldly glam, with blood red contacts  to match her impossibly chic Attico dress. With slate-gray smoky eyeshadow blended upwards, simple dewy foundation and bright fuschia colored blush blended high on her cheekbones all the way up to her temples. Witchy black lipstick with a glossy finish completed her look.
Barose shared some of the products he used to achieve the look with Vogue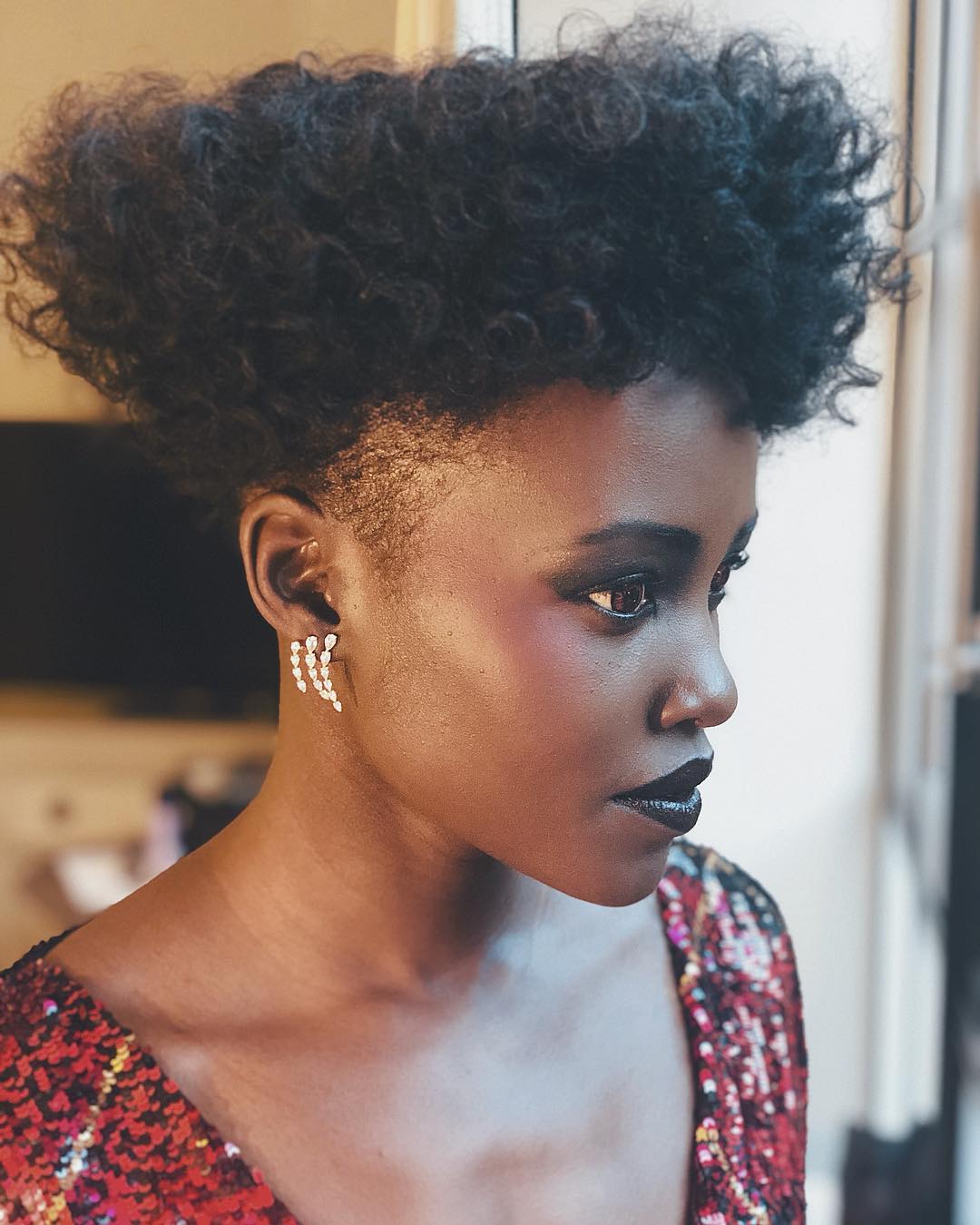 Using Lancôme's Color Design Palette in Gris Fumee on her eyes, to achieve the stark black lips, Barose went straight for the eye crayons, using Lancôme's Hypnose Stylo Eyeshadow crayon in Onyx, Drama Liqui-Pencil  followed by a layer of the plummy L'Absolu Gloss in Not Afraid. The bold crimson blush Lancôme's Le Monochromatique in Haute Couture was applied for what Barose told Vogue was "a fun way to add colorful drama." The  pièce de résistance of the look ? Voluminous curls expertly executed by hair stylist Vernon François
Check out more of Lupita's beauty looks below!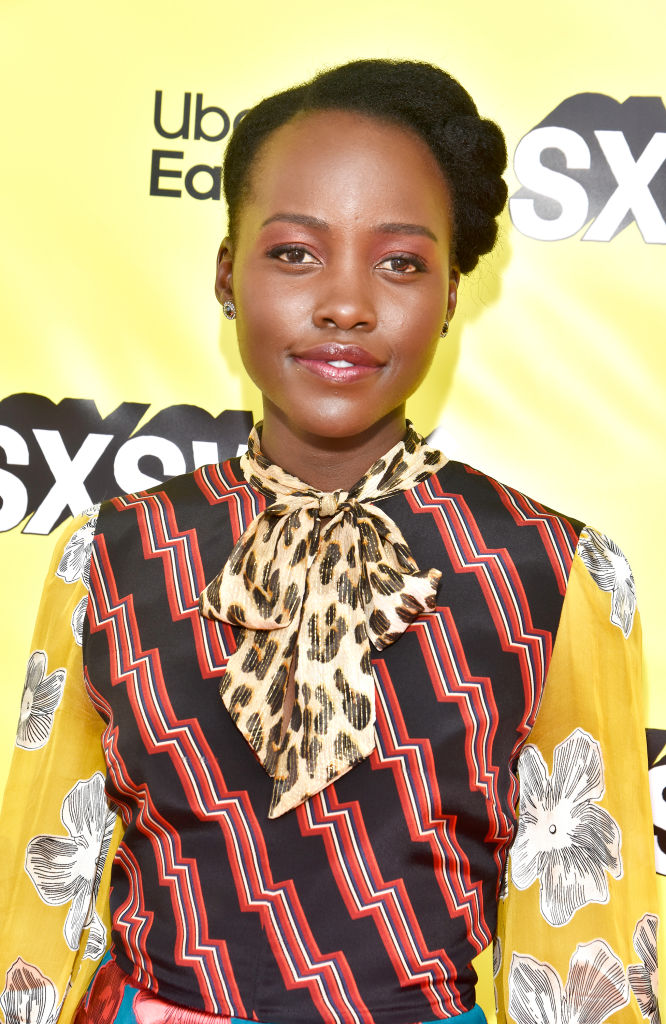 Lupita Nyong'o In Alice + Olivia at 'Little Monsters' SXSW Premiere
Lupita Nyong'o In Christian Siriano at The Ellen DeGeneres Show
Lupita Nyong'o In Prabal Gurung at The Late Show with Stephen Colbert
Lupita Nyong'o In Schiaparelli at Telemundo 'Un Nuevo Dia'
It's safe to say that Lupita Nyong'o is  our beauty hero and we can't get enough.of her  glorious, gorgeous, unsettling and mesmerizing beauty looks.